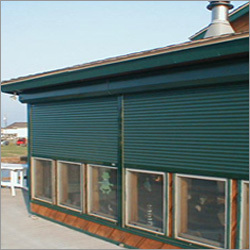 Motorised Rolling Shutters
Product Code : RS-12
Product Description
Motorised Rolling Shutters are a type of automated gates that open and close in vertical direction. They have been equipped with integrated brakes & declutching switch which allows them to stay in place in partially opened position. These shutters are most commonly used in large industries and warehouses where use of manually operated shutters is not feasible. Motorised Rolling Shutters are designed having a number of horizontal slats that are hinged together to assure easy open & close operation.
Features:
Prevents entry of dust and rain
Eye captivating slat profile
Made using low carbon steel alloy
Our company offers Motorised Steel Rolling Shutters that roll up and down smoothly. It can be operated with motor even when there is a power failure by the use of fully integrated brakes and declutching switch.

Contact Us
No. Wh-57, Kapurthalla Road, Near Old Sabzi Mandi, Jalandhar, Punjab, 144008, India
Phone :91-181-2621189